Summary: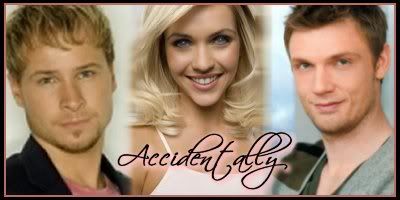 ac·ci·den·tal·ly
adj. 1. Occurring unexpectedly, unintentionally, or by chance.
The moment Nick saw Lauren, it was all over. It was lust. It was (gulp)
love
. The problem is, he was already
in
a relationship.. . with Heather, the girl who might as well be Brian's little sister.
Unable to figure out trouble brewing in his own life, Brian decides to work on Nick and Heather's instead. Except there's not much a guy can do with a lying, cheating best friend... and there's way
too much
a guy can do for the girl who's
not so little anymore
...
Rated:
R
Categories:
Fanfiction
>
Backstreet Boys
Characters:
Brian
,
Nick
Genres:
Drama
,
Dramedy
,
Humor
,
Romance
Warnings:
Sexual Content
Challenges:
Series:
None
Chapters:
40
Completed:
Yes
Word count:
80369
Read:
64426
Published:
04/30/11
Updated:
05/22/11