Summary: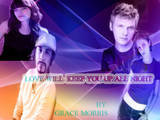 Lily and Sam are just your normal every day seventeen year old girls, and they are in love with a band that many do not like but at the same time many others do, The Backstreet Boys.
In an extreme case of luck Lily and Sam get front row seats as well as backstage passes to the boys Unbreakable tour in Chicago! They are both ecstatic and can't wait to go but Lily also has other things on her mind, rather, someone; None other than Nickolas Gene Carter.
Lily's mind, like other girls' of course, drifts to a dream or her and Nick together. Sam tells her it's never going to happen and Lily knows that but still, she's intent on trying at least. Meanwhile Sam tries to get her friend to stop haveing dillusions yet she finds her own self dreaming about a certain Backstreet Boy.
What happens when it seems the two girls' dreams might come true?
Read to find out!
Categories:
Fanfiction
>
Backstreet Boys
Characters:
Group
Genres:
Romance
Warnings:
Sexual Content
Series:
None
Chapters:
8
Table of Contents
Completed:
No
Word count:
12063
Read Count:
1210