Summary: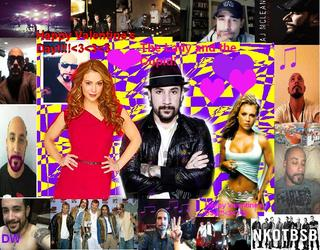 AJ Mclean has just gotten married and couldn't be happier or so it seems. Till one day, they have a fight and they decide to go their seperate ways for a couple days. Which leads to AJ dreaming what his life would have been like if he and Justin Timberlake had changed places. What if he had dated Alyssa Milano back ten years or more? What is love? True love? Why does he love people who don't always act like they love him? Does that mean they don't love him or BSB at all as friends? What about his half family?
Go with AJ Mclean, Justin Timberlake,the Backstreet Boys, The "Charmed" cast, all seasons and more!
Rated:
PG-13
Categories:
Fanfiction
>
Backstreet Boys
Characters:
AJ
,
Brian
,
Group
,
Howie
,
Kevin
,
Nick
,
Other
Genres:
Action
,
Adventure
,
Alternate Universe
,
Angst
,
Drama
,
Dramedy
Warnings:
Graphic Sexual Content
Challenges:
Series:
Backstreet Boys 's Holidays 2011/2012 Series!
Chapters:
25
Completed:
Yes
Word count:
13735
Read:
3905
Published:
01/22/12
Updated:
05/26/12
Pics borrowed from other websites and belong to whomever they do, just used for art.
1. Chapter 1: Falling into Happy, then.... by Dani824 [Reviews - 0] (534 words)

AJ Mclean and Rochelle are settleing into married life. Rochelle asks about Valentine's day. Alex fantazies about his wife being one of the women on the TV show, "Charmed" after and argument.
2. Chapter 2:Next dream, please. by Dani824 [Reviews - 0] (538 words)

AJ dreams about the problems that could happen to his marriage. And of the "Charmed" ones fixing it in an ideal world.
3. Chapter 3: Jessica trying to Help me. by Dani824 [Reviews - 0] (540 words)

Jessica Heart tries to help Alex in his sleep. His wife wonders why he is always trying to be done talking to her by 6pm every week night. Why is praying so much asking about "love" when he has her.
4. Chapter 4: Febuary 1st! by Dani824 [Reviews - 0] (304 words)

AJ and Rochelle, help Brian, Baylee and Leighanne move in for a while. Weird stuff starts happening at work and at their shows.
5. Chapter 5: Trying to wake Alex. by Dani824 [Reviews - 0] (428 words)

Rochelle tries to wake Alex up. Alex doesn't realize he dreamed those things from watching the TV show and hanging out with CT people a bit too much from the fanbase. Brian and the guys pray for him. They call people. Alex realizes what is going on with him. Alex meets the cupid angel.
6. Chapter 6: At the beginning of time. by Dani824 [Reviews - 0] (254 words)

AJ and Justin learn of what life was like before and why they need to change.
7. Chapter 7:In the hospital and in dreams by Dani824 [Reviews - 0] (803 words)

AJ and Justin are in the hospital. AJ explores ancient Greece, Egypt, Rome,... and looks at their different views on love. Justin dreams of being with Jessica and Alyssa Milano again. Their dreams intermingle.
8. Chapter 8: In the hosptial with AJ and Justin by Dani824 [Reviews - 0] (348 words)

AJ wakes up, then falls back to sleep again. The group tries to help him and find out what is going on. Justin wakes up too, but then goes back to sleep again, doctors monitor them, their loved ones start going crazy with worry.
9. Chapter 9: Groundhog day by Dani824 [Reviews - 0] (300 words)

AJ and Justin both finally wake up. But their still switched. AJ and Justin try to explain but the group freaks out.
10. Chapter 10: First day missing my families and Ro. by Dani824 [Reviews - 0] (387 words)

AJ/Justin are sad and miss their loved ones an angel sends AJ into the pass as Justin to fix issues with Alyassa Milano for him. Justin is sent back too to help fix some of the realationships with his friends too.
11. Chapter 11: Stilling fighting with NSYNC by Dani824 [Reviews - 0] (441 words)

AJ and Justin begin working on fixing their pasts for each other. BSB and NSYNC start looking for AJ and Justin.
12. Chapter 12: Meeting Alyassa at "Charmed"! by Dani824 [Reviews - 0] (692 words)

AJ asks Alyassa out on a date in hopes it will fix everything back in the end and lead him back to Ro and Justin has to deal with AJ's psychologists and thearphist at his future rehab center to help him find himself better. Then the guys both decide to help others in hope the angel will come back and bring them back home to their loved ones. (Next 2 chapters for next 2 days)
13. Chapter 13: A night out with Alyassa by Dani824 [Reviews - 0] (875 words)

AJ takes Alyassa Milano on a date, Rochelle in the present is freaking out looking for him. AJ and Alyassa have sex. Justin is trying to help Brian with his car.
14. Chapter 14: AJ is back and still looking! by Dani824 [Reviews - 0] (424 words)

Feb.4th and 5th, 2012 in the afternoon. AJ comes back from a wormhole to end up in Rochelle's arms. But soon, the angel shows him loves past with humans and how God tried to wake them up.
15. Chapter 15: Back again!(Takes on the new problems in the BSB fanbase) by Dani824 [Reviews - 0] (840 words)

AJ is taking to ancient times to see what people believed and to see who is ignoring that is ruining his love life and professional life now. Are bullies him and BSB are replacing long time fans with, that have lost money in the recession the cause, does he need the fans back and the rich bullies to take a hike and stop stealing them and stalking fans out of the fanbase? A surprise.
Note: Some needed Cussing.
16. Chapter 16: Rochelle SAVE ME! by Dani824 [Reviews - 0] (375 words)

AJ finally truely wakes up!
17. Chapter 17: Figuring Rochelle and Love out. by Dani824 [Reviews - 0] (927 words)

Rochelle, checks out everything for AJ. Talks to the guys to make sure he is ok. AJ starts writing down his ideas about love for a book and a song. As well as his other dreams of starting a colonge and fashion line for men and women. Rochelle and AJ discuss what made them have that huge fight at the beginning.
------------------------------------------------------------------------------------------
Note: Doctor name is made up, any doctors, etc. with the same name. Just a concidence. Please take no offence. Thank you. Just a concidence.
18. Chapter 18: I love to sing. by Dani824 [Reviews - 0] (247 words)

Howie and AJ finish Aj's song for Rochelle, decide to go shopping.
19. Chapter 19: Loving you, right. by Dani824 [Reviews - 0] (605 words)

AJ and Howie go shopping, AJ and Howie get mobbed in an L.A. Purple Mart. AJ catches up with an old girlfriend and it makes the tabloids and SNA within hours. Howie finds himself over-managing BSB. Howie fights with someone on the phone.
20. Chapter 20: I WANNA LOVE YOU FOREVER! by Dani824 [Reviews - 0] (543 words)

AJ gets in trouble for yesterday's events, Rochelle gets angry and sends him to the gym, AJ finds the perfect song to preform with his for Valentine's Day. AJ decides he is finally starting to understand the true meanings of love. He is almost done and becomes hopeful again. His angel visits him, the Alyassa Milano Angel.
21. Chapter 21:Morning sickness by Dani824 [Reviews - 0] (713 words)

AJ and Rochelle deal with morning sickness and AJ has to make a call and make things right with a friend who needs him to need him again. AJ tells Rochelle how he feels and tries to make her understand again.
22. Chapter 22: Back, funny, and still Howie is a nervous wreck? by Dani824 [Reviews - 0] (429 words)

Kevin arrives and brings Brian with him and their families. AJ catches up, Howie tells of the demon AJ sent on to ruin to the tour and rehersals and the group itself. AJ and the other discuss and tell a couple jokes.
23. Chapter 23: A Charmed Dinner by Dani824 [Reviews - 0] (242 words)

AJ summarizes having a meal with the cast of "Charmed".
24. Chapter 24: Valentine's Day! True Lovers. by Dani824 [Reviews - 0] (1476 words)

AJ preforms and celebrates Valentine's day with BSB and Rochelle. Song: "Forever Love", originally written by the author.
25. Chapter 25: New Chapter Begins.=) by Dani824 [Reviews - 0] (470 words)

End and Epilouge.